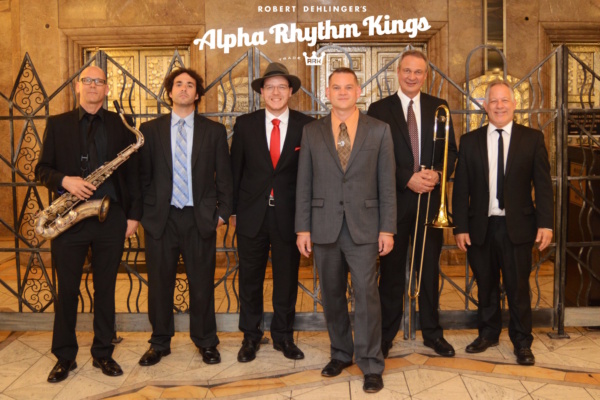 Swing. Jump Blues. Vintage Lounge.  Boogie Woogie.
Formed in 2017, The Alpha Rhythm Kings have created quite a stir with music fans, having crafted an exciting California sound, with what Roots Music Magazine No Depression calls "the badge of authenticity".
The band's top quality musicians, with Robert Dehlinger's blazing trumpet and "magnetic" singing (Jazz Corner) leading the way, are a favorite with swing dancers, as well as with audiences in nightclubs, festivals and concert halls.
The A.R.K.'s high-energy jazzy vibe has whisked them all over the globe, from the Greystone Mansion in Beverly Hills, to performances in Hungary, Austria, Germany, and back to the USA to play at the 2018 Grammy Awards Nominee San Francisco Chapter Celebration.
You may also catch the band entertaining at exclusive private clubs (such as the University Club of San Francisco), swanky casinos (like the Peppermill in Reno, Nevada, and the Orleans in Las Vegas), or family-friendly theme parks (California's Great America).
Front man Robert has entertained crowds at many of the USA's most famous locales, including shows at Lincoln Center's Midsummer Night's Swing in Manhattan, George Lucas' Skywalker Ranch, Pixar Animation Studios, and Disneyland Park in Anaheim, CA.
The Alpha Rhythm Kings' debut recording, "California Boogie", featuring their exciting original arrangement of "Oh Marie", is a "truly happening party record" (Jazz Corner), and one of the "greatest swingin' releases worldwide" (Hey Mister Jesse).
SPONSORED BY
Friday
8:00 PM – Hazel Room
11:00 PM – Salmon Room
Saturday
11:30 AM – Hazel Room
4:00 PM – Salmon Room
7:00 PM – Cedar Room
10:00 PM – Hazel Room
Sunday
1:00 PM – Salmon Room